To ensure the security of your account, ViaBTC provides various security protection tools. Modifying crucial security information of your account requires completing the corresponding security verification. Currently, supported verification tools include email, 2FA (Google Authenticator or mobile), and password verification. Please make sure to keep your account security tools secure and avoid disclosing relevant information to prevent unnecessary losses.
If your security tool is no longer available, you can reset it by submitting the required documents to verify your account. Once approved, your request for resetting the security tool will be passed within 7 business days.
ViaBTC DO NOT have official channels of telephone and live chat, and anyone who impersonates to be one of us is a SCAMMER! Our staff of any ViaBTC official group will not initiate private chat under any circumstances, nor will we ask for any personal account information or payments to resolve problems. If you have any questions related to your account security, please feel free to submit a ticket.
Here are some FAQ about account security tools for your reference.
1. Why does the system prompt "Account or password error" during login?
This prompt indicates that the email address or login password you entered is incorrect, such as having incorrect characters or extra spaces. Please check it carefully. Additionally, we highly recommend you use our services more conveniently with the ViaBTC App.
2. My Google Authenticator doesn't work (incorrect code).
The common reason is that your phone's time is out of sync. In this case, please make the time sync setting on the Google Authenticator App.

For Android devices:
(1) Go to Google Authenticator App [Settings].
(2) Tap [Time corrections for codes].
(3) Tap [Sync now].

For iOS devices:
(1) Go to the iPhone Settings App. (your iPhone settings area)
(2) Select [General] and [Date & Time].
(3) Enable Set Automatically.
(4) If it is already enabled, disable it, wait a few seconds and re-enable it.
If it still doesn't work, you can reset it by yourself via the self-service security tool reset, or submit a ticket for further assistance.
3. How to submit a self-service reset security tool request and what verification documents are required?
The required verification materials are specific to your account and should sufficiently prove that you are the account owner. Please read all the information displayed on the submission page and upload the required documents which should be complete, recognizable, and valid.
Take resetting Google Authenticator for instance, you can click [Lost Google Authenticator?] button after you input the Sign-in password and the email verification codes. The verification materials to be submitted include images (file size less than 5MB and no more than 6 images) and textual details.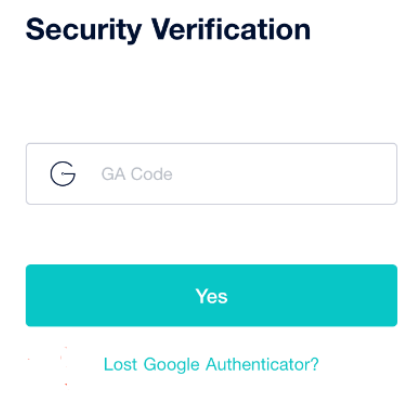 4. How to submit a self-service reset request if I have lost my login password and GA?
If both your login password and Google Authenticator are unavailable, you cannot submit a self-service reset request. In this case, please submit a ticket for further assistance.
5. The self-service reset security tool page displays "submit a ticket".
This indicates that you cannot reset the security tool through self-service submission. In this case, please submit a ticket for further assistance.
6. When uploading verification materials for self-service reset of security tools, the page displays "Operations too frequent."
Please check your network connection, clear your browser cache, and wait for 10 minutes before attempting to submit again. Make sure that the image files you are submitting are smaller than 5MB. If it still doesn't work, please submit a ticket for further assistance.
7. Why can't I receive the SMS verification code?
Due to the instability and incompatibility in multi-national SMS carriers, there may be a delay in receiving SMS. Please try again in 10 minutes.
If the problem persists, please try to unbind the phone number and then bind GA. After binding GA, you can use the GA code instead of the SMS code.
8. Why is it not supported to bind the phone number of my country or region?
If you cannot find the area code for your country or region in the list, we are regretful to inform you that we currently do not provide phone service in your country or region. Please use Google Authenticator instead of binding the phone. We will gradually expand our support for phone number-binding services to more countries and regions.
9. How to deal with not receiving email verification code?
Due to the unstable service of different carriers, there might be a delay in Email delivery. Please try again in 10 minutes. If you are using Gmail, the email might have been categorized under the "Promotions" tab or marked as spam. Please check your spam or other folders to see if the email is there.
If you still can not receive the code after several attempts, please submit a ticket for further assistance.