Introduction
Homepage White Paper Explorer Wallets Exchanges
Bitcoin Cash brings sound money to the world, fulfilling the original promise of Bitcoin as "Peer-to-Peer Electronic Cash". Merchants and users are empowered with low fees and reliable confirmations. Its future shines brightly with unrestricted growth, global adoption, permissionless innovation, and decentralized development. All Bitcoin holders as of block 478558 are also owners of Bitcoin Cash. All are welcome to join the Bitcoin Cash community as we move forward in creating sound money accessible to the whole world.
*SYS bonuses are obtainable from BCH mining on ViaBTC, you can get them via this link: What is Merged Mining?
Applicable Miners
Antminer (e.g. S19 Pro、S19、S17e and etc. )
Whatsminer (e.g. M30S、M20S and etc.)
Innocilicon (e.g. T3+ and etc.)
Find more info at Mining Profit Ranking
Payment Methods and Mining Modes
1. Choose BCH payment method in ViaBTC. (How to Choose the Optimal Payment Method (PPS+, PPLNS, SOLO)?)

2. "BCH Mining" and "Smart Mining" are supported by ViaBTC, and the smart mining supports [One-click Switch] and [Smart Mining].

Mining Setup
1. Configure Stratum URL
BCH Mining URL:
stratum+tcp://bch.viabtc.io:3333
stratum+tcp://bch.viabtc.io:25
stratum+tcp://bch.viabtc.io:443
Smart Mining URL:
stratum+tcp://bitcoin.viabtc.io:3333
stratum+tcp://bitcoin.viabtc.io:25
stratum+tcp://bitcoin.viabtc.io:443

2. Create Worker
Create a worker in the form of "userID.workerID" and set any password for it. WorkerID should consist of numbers and lowercase letters within 64 characters.
E.g. If your user ID is viabtc, your worker name could be "viabtc.001". Password is optional.

3. Configure Mining
Take Antminer as an example here. Log in to your Antminer first, click "Miner Configuration" and enter details as required on the page. Click "Save & Apply" when you finish setup. To ensure stable mining, we recommend users to set multiple ports. When one of them fails to connect, the miner will be automatically switched to the next port and continue mining.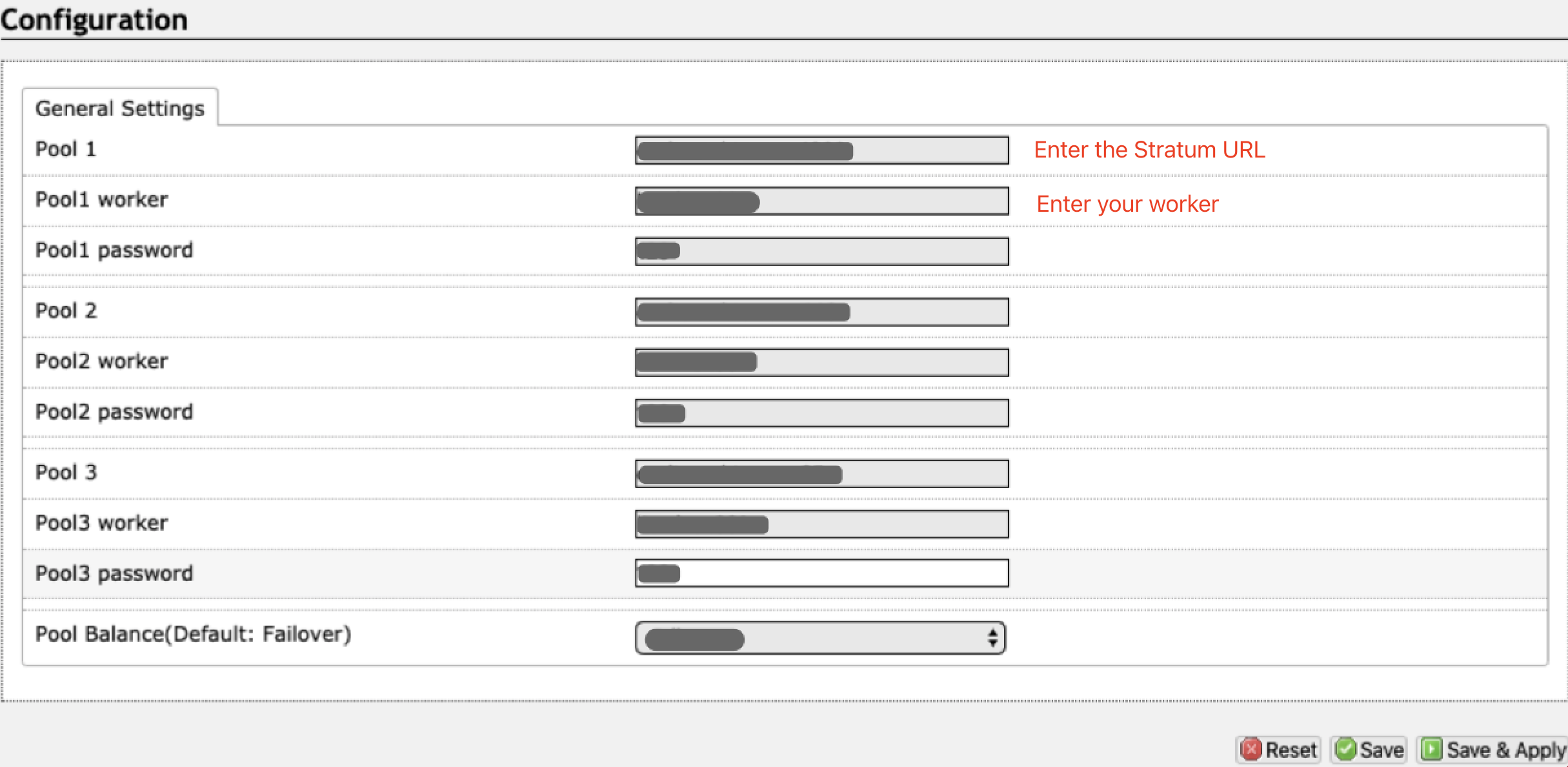 Monitoring & Earnings
After the miner has been stabilized for around 10-15 minutes, you can check the operation status and profits via Workers and Earnings page on Pool. You can also download ViaBTC App to view the related data at any time.
Payout
1. Auto Withdrawal (ZERO fee and unified payment every day between 10:00 and 18:00 UTC+8)
2. Normal Transfer (Transfer anytime but the fee is required)
3. Inter-user Transfer (ZERO confirmation and fee)
4. Transfer to CoinEx (ZERO confirmation and fee)
Why do I need to set multiple ports?
We recommend that users set multiple ports to ensure stable and sustainable mining. Should one of them be inactive, the miner will switch to the next one automatically.
If my miner is disconnected, how to fix it?
The status will become active after the miner keep running for around 10 to 20 minutes.
If the worker keeps producing invalid shares, please check your settings on the dashboard.
If the issue remains unresolved after checking, feel free to send us a ticket.