ViaBTC provides a complete mining service, including mining machine access, miner management, profit viewing, and profit withdrawal. We have prepared mining guides for beginners to help you understand the mining steps and the use of ViaBTC products.
Step 1: Determine the mining coin
You can learn about the coin on the ViaBTC website for each coin and selete the mining coin based on the current market environment.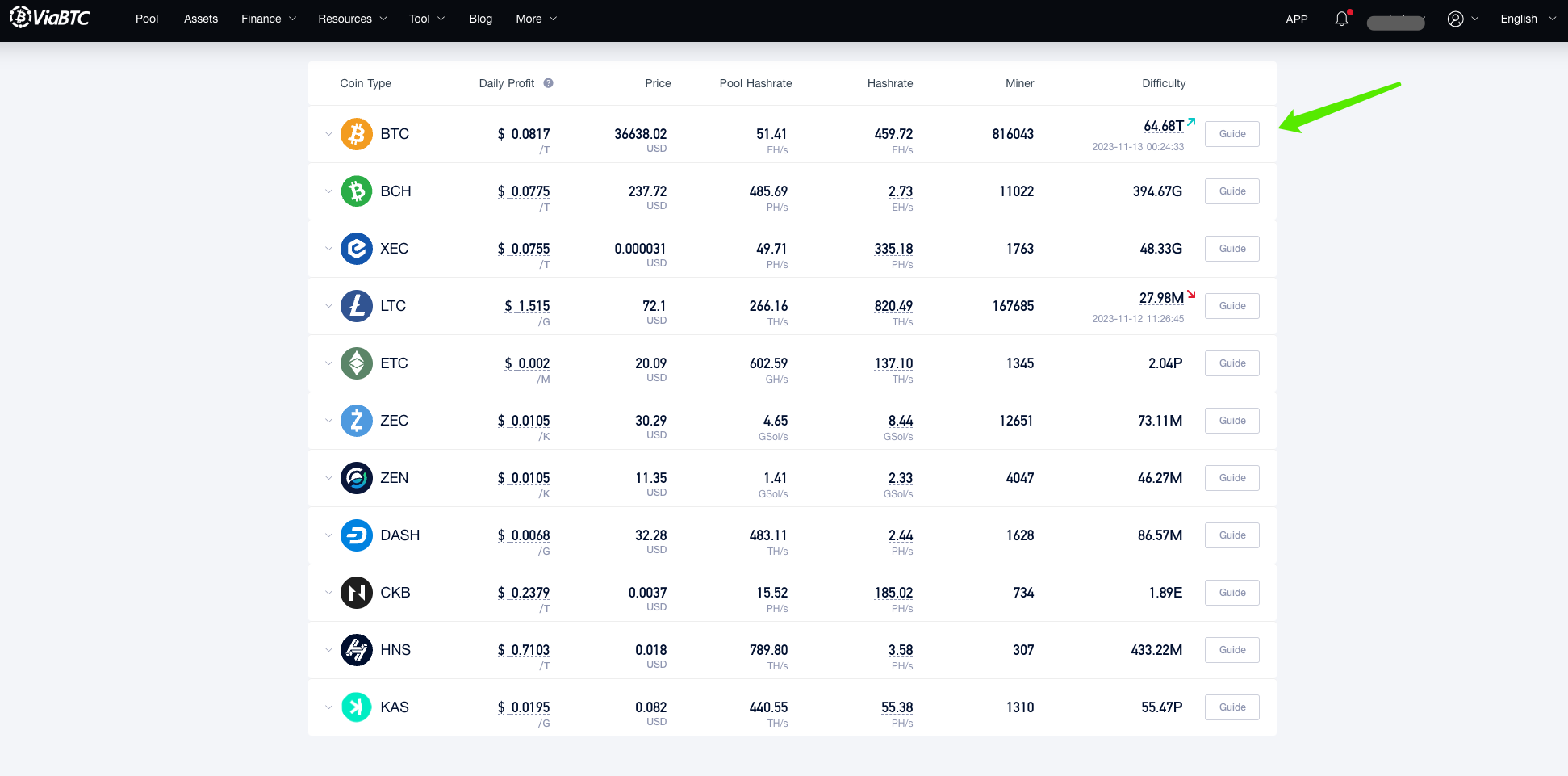 Step 2: Buy mining machines
In general, different coins use different mining algorithms, which require different types of mining machines.
You can check Mining Profit Rankings on the ViaBTC official website, where you can find information such as Hashrate, Power, and Net Profit 24H for different models of mining machines categorized by coins. Based on your needs, you can choose to purchase a suitable mining machine (we recommend purchasing through the official mining machine website to avoid counterfeits or scams).
In addition to the mining machine, you will also need supporting facilities: Power supply, Internet connection, Cooling devices, and external environment with suitable temperature and humidity.
Note: Proof-of-Work (POW) mining requires dedicated mining machine equipment. Mobile phones do not have hashrate for mining.
Step 3: Download mining software, set payment methods and mining configuration
1. ViaBTC supports self-configurable PPS+, PPLNS, and SOLO payment methods for all coins (some only support PPLNS and SOLO). For detailed fee rates, please refer to Pricing.
2. Choose a mining software.
3. Follow the mining tutorials for each coin to set up the Mining Configuration URL, username, and password.
Step 4: Monitor Mining & View Earnings
You can check the miner and hashrate details on Pool. ViaBTC supports real-time hashrate monitoring, hashrate alerts, miner group management, and watcher functionality. It is secure, stable, and operates with transparency.
Step 5: Withdraw Your Earnings
There are four withdrawal methods in ViaBTC: Auto Withdraw, Normal Transfer, Inter-User Transfer and Transfer to CoinEx.
1. Auto Withdrawal (ZERO fee and unified payment every day between 10:00 and 18:00 UTC+8)
2. Normal Transfer (Transfer anytime but the fee is required)
3. Inter-user Transfer (ZERO confirmation and fee)
4. Transfer to CoinEx (ZERO confirmation and fee)
In addition to withdrawals, ViaBTC supports various asset management methods such as deposit, convert, and revenue sharing. We are committed to securely safeguarding your assets.