Introduction
CKB Common Knowledge Base

Homepage Explorer Wallets Exchanges

Nervos is a distributed application network with a layered architecture, which enables to provide data for all distributed applications in the Nervos Network and Common Knowledge Base of assets and identity services.
Applicable Miners
NVIDA and AMD Graphic Cards are both available for CKB mining;
ASIC miners: Antminer K7、Goldshell CK6、Toddminer Como and etc.
Payment Methods
Choose CKB payment method in ViaBTC. (How to Choose the Optimal Payment Method (PPS+, PPLNS, SOLO)?)




Mining Setup
ASIC Mining
1. Enter the following information in your mining device:
stratum+tcp://mining.viabtc.io:3001
stratum+tcp://mining.viabtc.io:301
2. Enter your username or sub-account on www.viabtc.com (not wallet address or email address) in the "username" field. The "worker" field is for the miner's name, which can be customized and can consist of numbers or letters. Use a period "." to separate the username and worker name.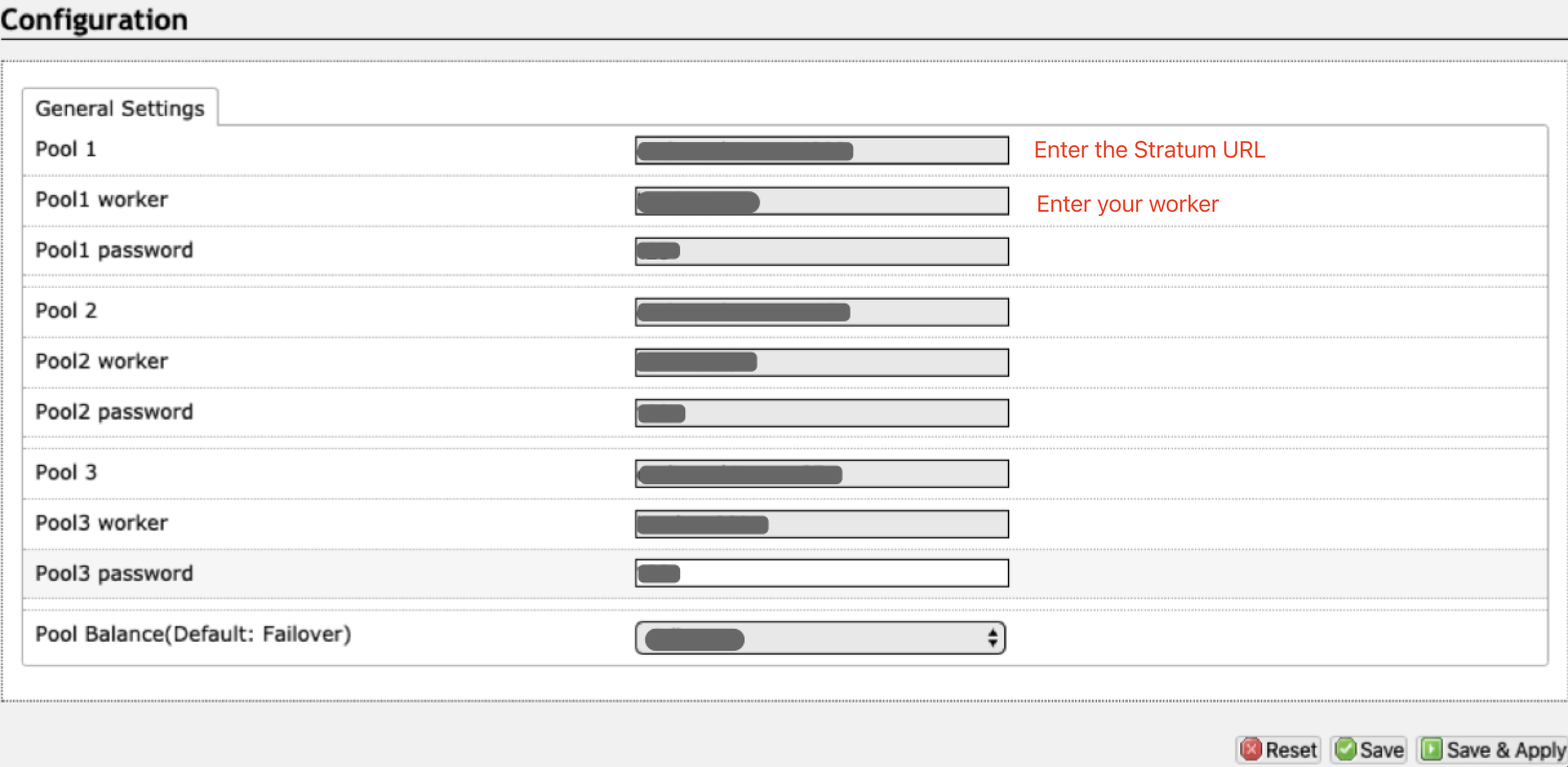 Note: This photo is for demonstration purposes only.
GPU Mining
1. Download software
NBminer
URL 1:https://drive.google.com/drive/folders/1JzWkzJ8-GiH02ntg24bmfdCBHc3JdTpt?usp=sharing
URL 2:https://github.com/NebuTech/NBMiner/releases
2. Download Software
(1) Download NBminer software, unzip it to a separate folder and find "start.bat".
(2) Open the "start.bat" file with Text or any applicable editor and re-edit the file:
nbminer -a eaglesong -o stratum+tcp://mining.viabtc.io:3001 -u username.worker_name
Notes:
1. Please change your username into the one used for your main/sub account in ViaBTC, worker name can be anything at your preference (set numbers or lowercase letters ONLY with up to 64 characters).
2. If the workers can't be detected by using port 3001, please try to use port 301.
3. Deploy Mining
Double-click "start.bat" to start mining.
Monitoring & Earnings
After the miner has been stabilized for around 10-15 minutes, you can check the operation status and profits via Workers and Earnings page on Pool. You can also download ViaBTC App to view the related data at any time.
Payout
1. Auto Withdrawal (ZERO fee and unified payment every day between 10:00 and 18:00 UTC+8)
2. Normal Transfer (Transfer anytime but the fee is required)
3. Inter-user Transfer (ZERO confirmation and fee)
4. Transfer to CoinEx (ZERO confirmation and fee)
Why do I need to set multiple ports?
We recommend that users set multiple ports to ensure stable and sustainable mining. Should one of them be inactive, the miner will switch to the next one automatically.
If my miner is disconnected, how to fix it?
The status will become active after the miner keeps running for 10 to 20 minutes.
If the worker keeps producing invalid shares, please check your settings on the dashboard.
If the issue remains unresolved after checking, feel free to send us a ticket.