What is Fees Coupon?
Fees Coupon is a benefit to ViaBTC users, you can enjoy a certain fees discount when mining on ViaBTC.

Notes:
[Applicable to]: There are two types, including multi-cryptocurrency and single-cryptocurrency. For example, if you get a single-cryptocurrency coupon and mine in BTC mining pool on ViaBTC, a discount is applicable to BTC mining.
[Effective Period]: The effective period of a fees coupon starts from the effective date. The coupon is valid within this period and unavailable automatically when it expires.
[Conditions of Use]: Only conditions met can you activate a coupon. If failed, you can see "Unqualified" when trying to use it.
[Activation Period]: During the effective period of a fees coupon, you can click [Use Now] to activate it. After activation, you can see the effective date on a coupon. If you haven't used the coupon within the effective period, it will become unavailable automatically. Please use the coupon as soon as you get it.
[Coupon Status]: There are 3 types. A fees coupon will show [Unused] before activation, and "Activated" if you met the conditions after activation. You can click [Used] to check. For those coupons that expired or haven't been used within a certain period, you can check them at [Expired].
Let's take the coupon below as an example:
You activated a 30-day fees coupon at 11:16 on February 26, 2020. During this period, you can enjoy a 40% discount when mining in BTC mining pool on ViaBTC.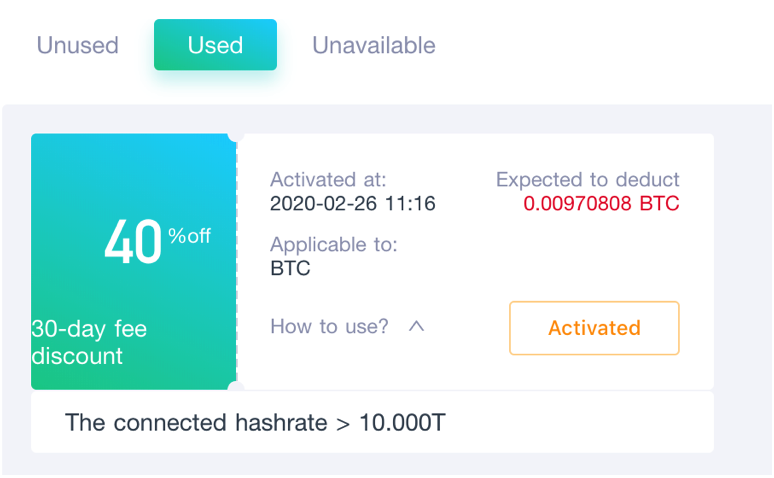 How to check and use fees coupons?
1. Log in to your account, click【Settings】.
2. Click【Fees Coupons】and then click 【My Coupons】to check.

3. Select 【unused】and then click【Use Now】to use a coupon.
4. For activated coupons, you can click 【Used】to check the fee deduction at "Expected to deduct".
Why can't I use my unused coupon?
1. This coupon cannot be activated yet.
2. Unqualified for this coupon.
Please click this coupon to check its conditions of use and activation period. You can use it if you met the conditions.
Where can I use the coupon and when can I start using it?
Fees coupons are applicable to both main & sub accounts for PPS method; Activate the coupon and you can enjoy a fee discount immediately.
p.s. Only ONE coupon available at a time. Coupon is uncashable and untransferable.
How can I get these coupons?
Stay tuned for our official events, we will distribute coupons from time to time.