How to Register ViaBTC account?
1. Visit ViaBTC official website (https://www.viabtc.com), then click [Sign up] at the top right corner.
2. After you open the page of registration, enter your [Email], click [Get code] and input it, and click[I agree with ViaBTC Terms of Service] after you finish reading it, click [Sign Up] and then set up your password to finish.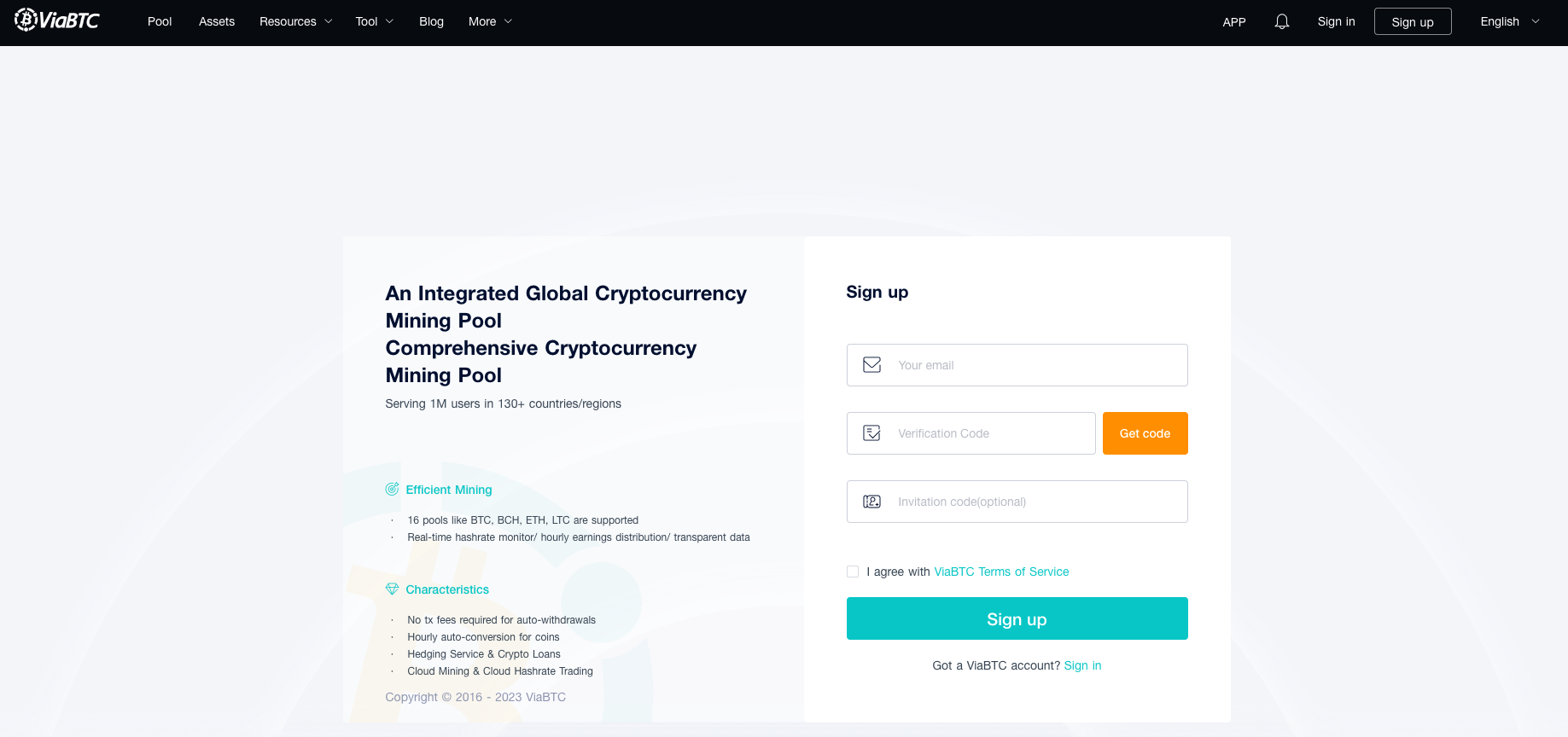 Reminder:
1. Your email address is significantly connected to your ViaBTC account, so please make sure of the security of this registered email account and set up a strong and complex password that should consist of uppercase and lowercase letters, numbers, and symbols). Last, remember the passwords for the registered email account and ViaBTC, and keep them carefully.
2. For the security of your account, we recommend that you bind Google Authenticator promptly after registration.
3. When your referee successfully signs up their ViaBTC account through your referral link (or referral code) and connects hashrate for mining, you can get corresponding service fees as referral rewards.
The referral code can only be applied during the process of registration, which means it can no longer be filled in again or modified once the account is created.
If you enter the registration page through the referral link, there is no need to enter the referral code again.

How to Sign in to your ViaBTC account?
1. Visit ViaBTC official website (https://www.viabtc.com), then click [Sign in] at the top right corner.
2. Enter your account and password, and click [Sign in]. Based on the 2FA tool binding, enter the relevant verification code to sign in.
Guides to fix the error issue when using the mobile App
Please check your network connection first as access errors are typically brought on by unstable networks, including the use of network proxy.

If you open the App and an SSL certificate error appears, please follow these instructions:
1. Check the network connection, including the proxy and mobile data.
2. Please download the most recent version of the APP. In the event that it hasn't been updated in a while, an SSL connection problem will also manifest. As the certificate's validity is constrained for security reasons, the current program's certificate has expired as a result.
3. Refresh your browser's cache sometimes. Cache data is frequently kept when software is changed, interfering with the proper processing of the site's current pages and leading to certificate issues.
4. Antivirus software obstructs the network's regular operation. Antivirus software can block active network connections, leading to SSL problems, even though it is intended to detect system weaknesses and prevent unwanted access to the system. Please try logging out of your current network and joining a different one.